Everyone using mobile like most of them are smart phones while they are using that they would like to capture the screen with the high quality but they don't have app to capture with high quality.let me introduce this app this will help to capture and record your phone screen with the high quality .
Ok i am going to tell the app name which it was called as  screen recorder &video recorder x recorder,yes this the name of that app that will help you most.You can download this from play store by searching this name.
App features:
You can record or take screen shot by tapping on the floating icon,but you need to give permission to that .
You will have in build video editor to help in the video editing.
You can record your gameplay with this app.
Export video into full hd up to 12 mbps and 60fps.
It have timer to easy use.
You can choose the storage to internal or external.
How it works :
You need to download the all from play store .
After you installed and then after open you will need to give permission to floating menu,so the floating icon will be available on our screen.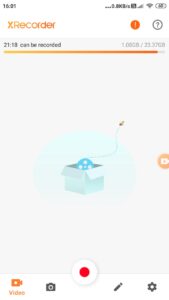 You will have floating icon to do every work that you need to do.You can record your screen and take the screen shot from that .
With the help of this app you will do most of your screen recording and editing work.
You can download the app by clicking the link below..!