In the app market there is lot of short video maker  that we can download easily.But not every app is best.but here i am going to intro the app which is made in india and working with  good  feature.
So,The app called as Josh the indian made app for short videos you can find that app by searching the same name in play store
App features:
This app work with easy interface that any one can understand this app easily.
You can find the unlimited videos from all type and you can choose the category which you did like.
You can choose the viral music and do performance with that one.
They will find what you will like by your watch time , taps and like the like to show that kind more often.
With the large community you can show your talent and become famous with the single click upload.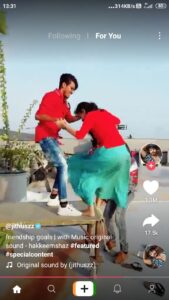 The inter face will look like above picture you need to sign up for saving your progress.
This app also support multi language so you can enjoy with your own language.
The app download link is given below