We live in a society where everyone is busy with the world they created, and they don't have any fun or relaxation. But every one well most of them having a smartphone in their hand for the most if the time for all kind of works.
Did you know you can have a lot of fun with the smartphone that you own? Let me tell you something with the help of your phone and some app, and you can easily prank your friends until you have a lot of fun.
For smartphones, it's not that hard to find an app for this purpose. It was very easy to find the app in the play store, which has millions of app.
Pranking friends for fun is not wrong, but we don't need to use this app for any inappropriate activity's will not be appreciated by the law.
So don't use this app for any inappropriate activity. Choose this app for good purposes.
How it works
We have a lot of apps that help you to make changing your voice. But not that every app that lets you do while you are in the call, But with the help of the app that I am going to introduce to you, You can do that while you are in the ring. Yes, that app Called Magic to call you can easily download by searching the same name in the play store.
Want to download from you can find the download link below.
How Does App Going To Work:
1. You need to download the app from the play store
2. After you Download when you open the interface, it will look like given below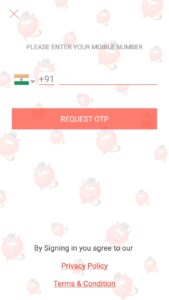 Before that, you need to give every permission that they ask for better performance.
If you don't give the full permission, this app will not work correctly, so make sure you check every license and provide the needed consent to work correctly.
3. Then register with your number to continue. Using your mobile number is to make sure you are doing things right.
If you are from a different country like the USA, UK, Canada, or anywhere else in the world, you need to give your country code to register.
If you have done that thing, then only you can access the app with all the contents.
4. After completing registration, the screen which you can get with a lot of options. The many options will give a great experience in this app.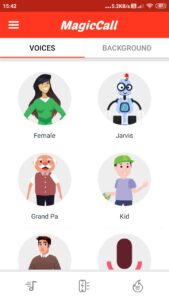 5. On that screen, you can see the female, grandpa, kid, and more voices that you can change while speaking
6. Using this app with your concern and own risk, because it could lead someone to the problem if you don't use it properly
6. That's all you need to do. Let's have fun. I am going to give the download link below.
This app is free to download and use, so you don't need to spend the amount, not even a single penny, on this.
This app is directly from the play store, so you don't need to have afraid to download and use it on your phone.
Having more than a million downloads, this app. is trustworthy.